This is super long in coming sorry Fighter hahaah.
But a month ago, Fighter turned three.
After his first birthday bash, I was so tired I told myself his next birthday party would be age 5 wtf (cos milestone ma hahaha).  Same for Penny — to be fair, I threw her a first birthday party then planned to have no more FTL.
But Fighter recently has been super aware of birthdays – the whole shebang – the cake and candles, the birthday song, and the possibility of presents.  Okay la more of the cake and candles and song; presents he mostly remembered if we reminded him only.  I didn't have the heart to deprive him of that.
So I thought, okay maybe we'll just do a small party for his classmates. I'd bring in cake and balloons and goodie bags when he's at school, and he and his friends can do the whole blowing candles have cake thing.
But when I started planning, I found myself thinking. Fighter's classmates are all pretty privileged – most of them come to school with helpers and drivers, and head to private and international schools when they're done with pre-school.  And they are all used to receiving extravagant party packs. While I know, like Fighter, they will actually like anything I give them, I couldn't help but think about other kids who probably haven't even seen as many cakes as Fighter's three year old classmates have.
So from 0 parties, I did 2 parties omg.
CLASS PARTY
Sticking to my original plan, I ordered a tray of cupcakes…
In the theme of Hansel and Gretel!  It's Fighter's favorite fairy tale hahaha.  Sadly some people see this cupcakes and thought Hansel & Gretel = Jude & Penny wtf. But it's not!  Check out the candy and the witch yo!
Arrived at school with this one in tow.  And my camera to vlog but unfortunately I lost my memory card FML DUNNO WHAT HAPPENED. That's why no vlogs for a long time wtf.
Grandparents Ooi were there too!  Fatty was away on a business trip so he missed this party.
Everyone didn't dare to look away from the balloons lest they don't get one LOL.
Except Chase.  Chase who is puppy in love with Penny, was preoccupied with offering Penny his banana hahahahaha.
Birthday boy!
CHILDREN'S HOME PARTY
Because I felt that since Imma already have to put in effort to come up with party packs and get a cake etc, I thought why not do it for kids that will, not to say appreciate it more, but kids who will savour the experience more.  Another reason is that I wanted Fighter to be aware that other children may lead different lives than him… never too young to start right?
So I contacted Lighthouse Children Welfare Home and arranged for us to bring food and cake and gifts over to them.
Lighthouse is a home for abandoned and underprivileged kids in Bangsar.  I got to know about them cos Fighter's class teacher's mother actually runs the home!
There are about 60 kids living in the home so we ordered Mcdonald's delivery! Super amazed that 60 McValue meals arrived on two motorbikes. :O :O
I told my friends that I'm doing this party for Fighter but not to bother to come cos I'm not inviting anyone.  But the Competitive Aunties made it anyway! They said they don't need an invite LOL.
With my two boys.  We had to leave Mochi at home cos she had a fever that wouldn't go away. T___T
These are all just pictures taken at the party!  Professional photos taken by Gladys Tan, Careen's sister.  Her photos all damn nice la ok!!! She's running her own photography gig called  @Capturedgladness on Instagram. Please check her out for event and wedding photography
The only other kid we invited was Chase, Fighter's BFF so that in case Fighter got shy, he'd have one friend there.  Here's Chase and David, his daddy, playing with the kids.  Super cute cos David was talking to the kids about sports cars and football teams hahaha.
Didn't have to worry about this fella feeling shy.
#thetwoboys as Fighter refers to himself and Chase hahaha sharing fries. <3
Kids all eating Mcdonald's.  Auntie Jacinta who runs the home told me for some of them it's their first time having Mcds ever.
<3
Sieu Ee happier than the kids wtf.
I worked with party planner Paper Goodz, who prepared party packs as well as organized games for the kids.  I told Cloey of Paper Goodz that the kids ranged in ages from babies to teenagers so she arranged general type of games that would suit most age groups.  I think Fighter and Chase are still too young though so they mostly danced around hahaha.
Dancing Fighter hahaha.
Then time for cake!  I assigned our baker a Hansel and Gretel themed cake and expected a gingerbread house la like the witch's house.
We got this.
OMGGGG. This is not a cake, it's a work of art! Hahahahah. Our baker really cake making skills level Asian wtf.  Not only is this a gingerbread house, they decorated it with real candy! Got those sugared gummies, marshmallows, macarons, candy canes, gingerbread men and even Hello Panda please.  And there were little figurines of Hansel, Gretel and the Wicked Witch.
Hansel and Gretel, whom Fighter likes to think of himself and Penny as.  Some more he thinks it's Handsome instead of Hansel LOLOL.
Family photo!
With this little girl who Fat Her fell in love with, Angel.  She was so cheerful and smily the entire time.  These kids really can be happy with so little.
Overly ecstatic birthday boy couldn't stop laughing before cutting cake I also forgot why hahahaha.
Blowing out his three candles.
His teacher Dheepa's dog was also there and Fighter was super tickled (literally cos the fur so fluffy wtf).
Fighter's not the only happy one hahaha.
Wei Zhi also hahaha.
Okay me too hahaha.
Shiokness is eating fried chicken.
The party packs prepared by Paper Goodz.
Put in this picture because Fighter is damn adorable here!!!!
We asked him to help give out the party packs to the kids and all the older kids just layan him hahaha. But check out Fighter's expression!  He damn sincere ok, every pack he gave out, he'd look into the eyes of the recipient and hold eye contact hahahaha.
My beautiful little boy.
Thank you Lighthouse for letting us party with you hahaha.
I wanna talk a bit about Lighthouse though. They are a privately own and run children's home in KL and survive entirely on people's kindness.  The lady who runs it, Auntie Jacinta, is the mother of Fighter's school teacher and they're both amazing people who are so passionate about children and education!
When Fighter's teacher went to teacher's college at 18, her mom was studying for her education degree right next to her.  And then in 2005, Lighthouse was set up.
Right now, they currently house 58 kids ranging from a six month old baby to 18 year olds.  Some of the kids are orphans, some have been abandoned or abused, some just have parents who cannot take care of them.  They don't kick out children when they turn 18 but make sure they're schooled and financially independent first before letting them leave the home. The kids are of different races but most of them are Indian or Orang Asli.
 They don't have a license though because our government dictates that welfare homes must have a certain quota of Malay children before the qualify. -_- I don't understand why charity also must have a discriminatory element to it but whatever.  
In fact, they told me that some Bumiputra companies are not interested in sponsoring or donating because there are not enough Malay kids. -_- Same goes for Chinese run companies – because there are too few Chinese kids.  I hope you guys are proud.
That doesn't seem to bother the kids too much cos they're still so cheerful and content.  Someone asked some of them if they felt resentful that parents came to visit their children at the home, and they sincerely said no.  They were all so well behaved too and even prepared a dance for us after they finished playing games.
Some of the kids, especially the Orang Asli come from appallingly poor backgrounds too.  Auntie Jacinta said when they get to her, they are shockingly skinny.  And when asked what they used to eat, they'd say things like sup katak (frog soup, I doubt it's the delicacy kind, but the black frogs they catch in waterways).
Their expenses amount RM40,000 a month to house, feed and school 60 kids.  The home is doing their best but they're just scraping by every month.  40K sounds like a huge amount, but that's only RM750 a child a month, if you think about it.  If everyone could pay for a child or even partially every month, I'm sure it would be a giant help to them.
If you would like to help, please do!  You can contact Jacinta Steven at 016314 1789 or view their FB page *here* or email me at fourfeetnine @ gmail.com and I would be happy to explain more and connect you! This is not an ad wtf but just something I want to help with after meeting the kids and the amazing people who run Lighthouse. Thank you!
A month ago, I was invited to a Leica x Huawei workshop led by photographer Nadirah Zakariya.
That's her!
I'm totally not a photography person so I hadn't heard of her but omg I took a look at her photos and I wanna kill myself wtf.  Cos like I told her, I really need this workshop; my photography skills are erm to put it nicely… atrocious. Hahahha.
Once some friends and I actually had a photo contest when we were traveling — we each took a pic of the same strawberry dessert and posted on Instagram and asked people to vote whose is the nicest.  The winner was hard to pick but everyone unanimously voted my effort as the ugliest HAHAHAHAH.
The Huawei P9 is a very good phone, not least cos of its camera.  The famous camera on the P9 comes with dual Leica lenses.  In very simple terms (I totally had to read up about this fml), it means that with two lenses, more light enters the camera, resulting in sharper photos.
But hor, good camera doesn't = to good photographs hahahaha.  Take me for example. *shifty eyed
Anyway here are some tips that I picked up that I may or may not be putting to use in my photos wtf. *shifty eyed again*  Guys please learn ok! Very important for the Instagram generation wtf.
Take five steps and snap
Key point – we need to experiment with different angles and composition yo!  Take a picture from your usual angle and distance.  Then take five steps in front and snap again.  You might be surprised to find a new cute angle that you can work with.
Though if you're taking a selfie, five steps closer doesn't really work wtf.
2. Use lighting from different angles and play with light colors
Okay this is something I'd never thought of at all.  Normally I'd strive to avoid backlight so I'd stand with my back towards wherever the light source is.  But Nadirah opened my eyes up to new possibilities!  Backlight isn't bad – it means you can take artsy silhouette photos that have a whole other beauty.
Nadirah's backlit photo.
Mine wtf. Um why mine not as nice ah? Oh yea it's cos I have floor mats hanging behind HAHAHAHA.
Like this photo that Nadirah took as well.  Sorry I'm showing a lot of photos of hers that I took from her website and IG but I was very in awe!  She put that torchlight there then a mirror inside the book to get this photo. :O
Before I'd always looked for white light too cos I hate yellow light photos.  But think beyond that! Nadirah just randomly threw a sheer pink scarf over her light fixture in her toilet and bam, she got this gorgeous photo. :O
3. Cropping and framing
Instead of normally just taking close ups of my fambly and friends (what! Cos I love them so I wanna see their faces wtf), Nadirah taught us to play with cropping photos differently, not just focusing on their faces or making sure their whole body is in wtf but playing with the space around them too for a more interesting photo.
Keeping in mind her advice, I took this photo of Nadirah when we were practicing our photo skills.  NUBBAD HOR 😀 (this was my best attempt wtf)
I also took this photo while I was in Manila and was pretty happy with it!  Although I think it's got to do more with the gorgeous skyline and colors, and the P9 camera more than my skills hahaha.
Another one using the P9 monochrome function of Emma from Huawei.
4. Add something of interest
If the photo looks too ordinary boring uhh standard, don't be afraid to shake it up by adding something! In a sample shot she showed us, she got her friend to put on a hat to make it more interesting.
Tried that here, not sure if it works hahahaah. Maybe the hair accessory, bracelet, necklace AND one Croc shoe is a bit overdoing it hahahahaha.
This is Nadirah's take on adding interesting (and themed!) items into a photo.
5. If all else fails, find a cute subject
Um this one is I say one hahaha.  Cos like I know all these useful tips already but I'm bad at applying them FML.  So when all else fails, distract people with cuteness. Hahahaha.
Can?  Pass? Hahaha.
Anyway that's what I learned. Thank you Huawei for organizing the workshop! I need to tattoo your photography tips to the back of my brain thx.
Note: Photos by Nadirah were captured from her website and Instagram.
This post was written in collaboration with Huawei.
Hello everyone!
Yes I'm aware I haven't updated my blog for a while.  I was in New York for a week and when I got home, I've just been getting caught up with errands, work and spending time with Fatty and the kids.
Don't know if you guys know about the recent "blogger saga" wtf but yea that happened too which caused me to take a short break off social media platforms which requires me to actually write.  But I'm back now and you can read my thoughts on it on Dayre day 265.
But in the meantime, here's a vlog that I made before we went to NYC!
Click bait title: Fighter takes off his pants
HAHAHAHAH I promise you it's not as it sounds. Or is it?
WHAT SORCERY IS THIS WHY LAST TIME I SO PRETTY ONE. WHAT HAPPENED TO ME?
Oh yea. Age. FML.
I was going through Google Images looking at old photos (what? Don't tell me you don't do that wtf) and mourning the loss of my youth hahahaha.
But then my youth also came with outstanding looks like these: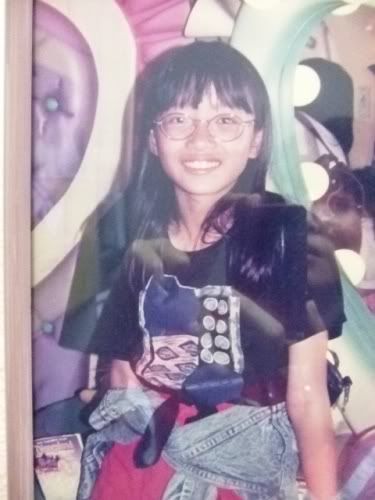 Bam.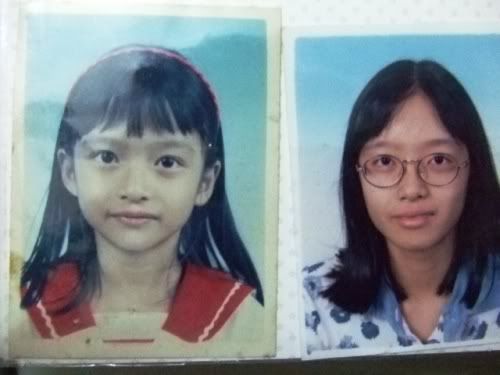 Bam.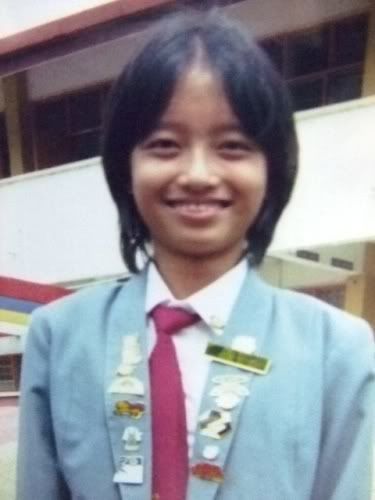 BAM.
I wasn't that ugly la right. *lying to self
But I definitely needed work done. Hahaha.
This is the story of my makeover.
Me at age 11 or 12.  At this time of my life, the epitome of high fashion to me was this faded Flintstones tshirt that used to belong to Mummy Ooi, and a psychedelic pair of bicycle tights.
Growing up, all through high school my definition of dressing up was a large tshirt and some shorts or knee length tights. *grim smile.  I don't remember what made me like that combo so much, but I really liked it and wore that for every tuition class hahahaha. It's not that I didn't care about fashion though; it's that I really thought this was damn fashionable hahahaha.
However, I had very little in the way of vanity back then.  The only time I was slightly vain was when my best friends got their ears pierced when we were 12 and I so badly wanted to do mine too.  We were standing outside Poh Kong already, all ready to go pierce.  But at the last minute, when Fat Her Ooi heard about it, he balked and absolutely forbade it.  I don't remember what his reasoning was but I do remember crying bitterly all the way home and sulking about it for days. Hahahaha.
(I ended up piercing my ears at 16.  Because Ooib went out one day and got his ears pierced WTF.  #rebel.  It was beyond Fat Her's control then and would seem horribly unfair if my brother could pierce and I couldn't. So I finally got my earrings.)
So what made me change?  What made me get into makeup and dressing up?
The answer is: boys.
Or to be specific, one boy. Hahahaha.
We started dating at 17.  In high school hierarchy, he was one of the popular kids and I was a happy nerd wtf.  He really liked me for my awesome personality but he was also embarrassed because his girlfriend wasn't hot.
So I tried.  I bought new non-tshirt clothes.  I started wearing skirts.  I learned how to walk in heels.
When we broke up, I was heartbroken but a part of me was relieved.  I'm not a hot girl. I'm not Bobo wtf hahahaha and I never felt comfortable with what I was wearing; I only wore those outfits because he liked them.
However, that experience opened me up to different styles of dressing up.  I started to look beyond my usual big tshirts and learned how to coordinate trendier and unslutty outfits wtf.  And when my family hosted some Japanese exchange students, they taught me the basics of makeup.
I started with just mascara and tweezing my eyebrows, but over the years my repertoire of makeup expanded to what it is today.
I started with beauty and makeup and clothing for the wrong reasons – to impress a boy.  And puttering around with makeup and hair products may not be up everyone's alley; you should do what you're comfortable with.
But for me, dressing up well gives me confidence.  I broke up with my first boyfriend right when we started college.  I was devastated but by then I had already figured out my personal style, and I uhh didn't look so bad anymore.  And guys started noticing me. *heart flutters wtf
What I'm saying is… looks are not everything.  But looking good can make you feel good, and nobody should judge you on that.
That said, here's the ad part of this blog post. 😀  A TV show called How Do I Look Asia which focuses on giving makeovers to ordinary women for that extra boost of confidence is currently in Season 2 right now!  It's sponsored by Marigold Yogurt Drink, a brand committed to looking good and feeling good, and they're running a weekly contest on Facebook.
If you can recreate the #MarigoldYogurtDrinkDance and upload a video of yourself dancing on Facebook together with the hashtag, you could win weekly prizes of full day pampering spa sessions.
Do you have a makeover story to share? Leave a comment 😀
This one confirm you all parents with chot chot sucking babies want to know right? Hahahaha.
Read on if you're a parent with a pacifier addict for a child!
So Fighter fans would know that Fighter is pretty much addicted to his pacifier.
While playing with his doctor's set…..
At the optician…
Eating also must hold pacifier in his other hand wtf.
All started back in his little incubator in the NICU.
Fighter has been a lifelong fan of the pacifier.  I can't tell you how many pacifiers he's gone through – especially after he had teeth cos he also had a bad habit of biting them through.
Mummy Ooi said never mind, let him take pacifier at four years old also ok.  I was like NO WAY JOSE wtf.  There's nothing wrong with his teeth, thankfully.  They're straight and white, and his speech has developed amazingly for his age too.
But I noticed that he was gradually getting more and more addicted.  We try to restrict it to sleeping time, car ride time, and maybe whenever he's upset.  After he gets his comfort, he's normally happy to hand back his pacifier.  But lately when I ask him for it, he refuses.
Hell hath no fury like a mommy scorned!!!!
Lolol no la but I started to think maybe his addiction was getting out of hand.
It was one morning, the day after his third birthday, idly watching him grab for his pacifier like it was a life jacket and he was drowning that I thought I should really take action.
I mulled over my next course of action.  Obviously I wanted a pain free solution where preferably no crying is involved.  I remember reading a thread on Reddit written by a dad on how he weaned his three year old off his pacifier — he built up to the third birthday by telling him he would be a big boy now, and convincing the son that he had to mail off his pacifier in order to get clues to embark on a special treasure hunt, secretly arranged by the dad.  Then letting the son pack his pacifier up in a box and taking him to the postbox to mail it off.  The first three days, the son still cried for his pacifier, but accepted it finally.
Very admirable, dad!  I really applaud his dedication in ensuring his son transitions painlessly… but gawd is it a lot of work. Lolol.
So I told nanny, "Tomorrow morning when he asks you for his pacifier, put vinegar on it."
The next morning came.  Fighter toddled around the house, and finally came upon nanny.  "Auntie Nanny, where's my chi chi?"
Like I'd instructed, Nanny had prepared a saucer of vinegar.  She surreptitiously dipped the pacifier teat in the vinegar and handed it to him.
Fighter took the pacifier.  He popped it into his mouth.  Started sucking.  The pacifier bobbed up and down.
Nanny stared at him.
Fighter sauntered away.  No comment.
WTF HAAHAHHAHAHAHA WHAT IS WRONG WITH MY SON THAT HE IS OKAY WITH VINEGAR ON HIS PACIFIER!!!!!
So Nanny brainstormed.  And she started squeezing juice from a piece of ginger. XD
The next time Fighter asked for his pacifier, he received a pacifier soaked in ginger juice.
It happened in a split second.  Fighter popped his pacifier into his mouth.  And without pausing or taking his hand off, he immediately snatched his pacifier out again and threw it across the room in one fluid motion.
HAHAHAAHAHAHAHHAHA.
He shouted in indignation and confusion.  What had happened to his chi chi!?!
After he'd finished bawling into my lap, I told him:
Fighter, it's okay.  You know how you're three years old now? Well, that means you're a big boy now.  And when you become a big boy, your chi chi turns bad.  That's why it tastes so bad now.  You see mommy and daddy and grandma and nanny?  We don't eat chi chi because we're big and our chi chi's turned bad. Chi chi is only for babies like Penny.
OMG this one is really lau ghee na (bluff children) hahahahaha.
Fighter asked why a few times but after repeated gentle explaining along that vein, he accepted it.
Over the next few days, sometimes when he was upset or wanted comforting, he asked for his 'chi chi'.  But I'd simply ask, "Really?" and he would falter and say no. Hahahahaha OMG.
He fell asleep with no issues though! Nanny and I were expecting him to have insomnia problems wtf but he had no problem going to sleep.  However, when he woke up in the middle of the night as he tends to do sometimes and couldn't find his pacifier, he would scream for me.
For two nights, I had very little sleep.  I say little because literally, I had to sleep with him in his little toddler bed FML.  Become human pacifier wtf.  Luckily I'm small enough.
It's been a week and we're past that though.  Fighter is perfectly happy without his pacifier and he's completely stopped asking for it.
However, the other day he found the cover to his pacifier; instead of asking for his chi chi, he just gazed at the cover in his fist, and said wistfully, "Ahhhh chi chi."
HAHAHAHAHAHAHA my son the drama king.
That's how we weaned Fighter.
If you're looking for tips, here's what I think worked for us.
Concocting a story that's related to growing up because he's recently been identifying with 'being a big boy now' and turning three.
NOT shaming him into giving it up, instead positioning it as a rite of passage of growing up
Going cold turkey. (My mom felt sorry for him and suggested giving it to him for bedtime but it would have affected the consistency of my story. I.e. he would totally see through it and think of me and daddy as liars.)
Good luck parents!
In a year's time, it will be this one's turn.
Be honest.
When you were a kid, did you ever put your face very close to your mom's table fan to feel the breeze, and say "Luke, I am your father" because a fan was essentially a homemade voice changer?
And now if you're a mom or dad, do you ever get butt clenchingly nervous whenever your toddler goes near the standing fan because they might sneakily put a finger in through the slots when you're not looking?  Or their hair might fly in and get caught? Or they might breathe in dust stuck on the spokes and develop asthma? Not to mention that these standalone fans are a b*tch to clean?
I'll be honest.
As kids, these fans were fun.  Who doesn't want to magically sound like Darth Vader whenever they go near a fan?
But as adults with responsibilities, these fans while useful, are sort of a safety nightmare.  Not only do we have the obvious risk of kids putting small body parts in, the ease with which they accumulate dust seems to be a health hazard of its own too.
So a Dyson fan is the obvious answer.   I'd always wanted to get a Dyson fan – streamlined design, doesn't take up space and looks sexy as heck in your living room. HAHAHA.   But it was always a bit out of my budget so we never got around to it. Today though, Dyson has created their newest product – an air purifying fan.
That's right guys.  This is the Dyson Pure Cool Link air purifier.  It looks and functions like a traditional Dyson bladeless fan, but comes with air purifying capabilities to boot. It comes in two colors – white/silver and iron/blue.  I picked iron/blue because our house is super colorful already (with toys all over) so it should match hahaha.  
Air purifiers have become a sort of staple household item in Malaysia, no thanks to the haze.  Don't say haze only, indoor pollution can be a bigger problem than outdoors too.  Warm and humid bathrooms = mould and bacteria, pets moult fur, chemicals and smells from household items, not to mention a whole lotta dust.
There are different kinds of air purifiers on the market, but if you're shopping for one, get one with a HEPA filter.
Sorry to throw facts at you hahahaha but Dyson Pure Cool Link features a unique 360° glass HEPA filter (located at the base here) which can filter up to 99.95% of ultrafine particles – pollutants and bacteria as small as 0.1 microns.  Plus its active carbon layer filters toxic smells and fumes too (babai baby farts!)

This baby comes with a remote control too for easy operating.  Actually the whole thing is very simple la, buttons on the remote control are self-explanatory, and it starts with a push of a button. My favorite thing though is that the remote control is magnetized so it can be placed on top of the Dyson when not in use.  So nifty hehehe. Fighter especially is obsessed with the remote control though; he keeps plucking it off the air purifier -_- I'm so scared he'll really lose it one day FML.
But actually even if lose hor, it's okay! Because….
My phone can also be the remote control. :O :O  I just downloaded the Dyson app, linked my air purifier to the wifi and I can basically operate my Dyson from anywhere in the world (as long as got Internet).
Imma wait for one day when Fatty is home alone and he's so going to get freaked out HAHAHAHAH.
Using the app, you can:
Check the air quality in your home – sei lo, why my air quality only fair better turn up to level 10
Measure and track air quality daily and weekly
Set timer and schedule for air purifier to turn on and off
Remote control – includes turning on and off, adjusting fan levels, setting timer, turning on and off oscillation, and setting night mode on.
The Dyson features ten levels of air purification – level 10 is expectedly louder of course but nothing jarring.  For a closed room, a constant of 4 is recommended. There is also an automatic mode – the Dyson senses the air quality and switches on the appropriate purifying level.
And there's a night mode too where the LED light dims and the fan's whirring is kept to a minimum – so the babies can er… sleep like babies. LOLOL.
Penny: Then my baby can also sleep like a baby?
It's especially important to note that the Dyson filters out 0.1 microns sized particles — 0.1 microns means it's small enough to enter our bloodstream and babies and children with their still developing organs and systems are particularly at risk.  So yea I hope you sleep well Penny!
Fighter and Penny love the "new fan" as they call it!  Their mommy loves it too, don't need to say hahahaha.  I love how sleek it looks and how it complements our interior decor.  It looks like a centerpiece more than an appliance leh!
This will be the start of our Dyson collection. :)))))
This post was written in collaboration with Dyson.
No prizes for guessing what Fighter's favorite song is.
It's Hey Jude hahahaha. When I went for the Beatles Let It Be musical, I bought the West End recording CD and put it in my car. Fighter remembers Hey Jude from the early days when I'd sing it to him while rocking so he wanted to listen to it in the car.
Again and again. And again.
FML from one of my favorite songs Hey Jude suddenly became damn sien to me hahahhaah thanks ah Fighter. Anyway, this vlog is titled Hey Jude because Fighter tries to sing it. Key word is tries. Hahahah.
Enjoy and please subscribe if you like my videos!
Today I feel like a bad mom.
I feel like a bad mom because Penny is sick.  She's been having a fever and a cough for four days now and she's been very clingy, only wanting mommy all the time.
I feel like a bad mom because maybe she got sick because we took her out with us for Fighter's sports day and she spent a whole morning in the heat.
I feel like a bad mom because while Penny is sick, I'm preoccupied with her and I have no time for Fighter.
I feel like a bad mom for shouting at Fighter when he whines.
I feel like a bad mom because when I spend time with Fighter, I'm distracted, thinking of the deadlines, and backlog of posts and vlogs I have.
I feel like a bad mom because I could have done my work at night when the kids are sleeping, but instead I went for dinner with my husband and friends, and watched the Olympics.
I feel like I'm a bad mom because maybe if I slept less, I could get more done. Because I feel like I have so many obligations and I'm spreading myself thin, I'm not giving my 100% to anything.
I feel like a bad wife because sometimes I don't have time for Fatty.
I feel like a bad mom because I don't have it together.
Because I keep making the same old meals for the kids until they sien.
And then I feel like a worse mom because I'm still trying to get my shit together, but I see other moms on Instagram even got time to make cute food art for their kids. And they have time to stage home photo shoots for their babies and their kids never make weird faces or try to snatch my camera.  And their living rooms are spotless and white and don't look like this. *forced smile*
Today I feel like a bad mom.
Koko,
Tonight while I was putting you to sleep, Baby woke up in mommy and daddy's room. She realized she was alone and burst into tears and started wailing, "Mommeh! Mommeh!"
Auntie was over on the other side so she couldn't hear. As I rushed out of the nursery to Baby, I heard you say brightly, "I wake up!"
I burst into our room before Baby could fall off the bed trying to get to me and picked her up. She stared at me tearfully and clambered into my arms. Meanwhile, you had climbed down from your toddler bed yourself and made your way down the hallway to my room.
"What happened, mommy? Did Baby fall off the bed?" You asked.
"No, Baby just woke up. Mommy is going to bring baby into your room and you both sleep in your beds ok?" I said, patting you back into the room, with Baby propped up on my shoulder.
I lay Baby in her cot while you obediently climbed back up into bed and settled down. Baby flipped over, hugged her cot bumper and closed her eyes. You, on the other hand, started singing. I don't remember what — your usual repertoire of nursery rhymes I suppose. It's your bedtime ritual — that and nonstop chattering — before you fall asleep.
I shushed you but not too loudly because I didn't want to wake Baby. Unfortunately, she woke up anyway. She sat up and raised her arms, asking to be picked up and rocked to sleep.
I carried her and shushed her too, patting her on the back while I lowered myself into our rocker. Half held my breath in anticipation — you always want to be carried to sleep too although I tell you you're a big boy now, and you usually get mad when I carry Baby and not you.
But not this time.
Tonight you flipped over and looked at me and Baby rocking in the chair. Then you settled yourself down. You turned left and right a little bit, then stayed still. Minutes later, your breathing slowed and stayed regular. Leaning heavily on my shoulder, Baby had fallen asleep too.
I am writing this because tonight you were a big boy. You could have cried and demanded mommy, and I would have to shout down the stairs to Auntie or Daddy to take baby while I pacified you. Maybe I would have to rock you to sleep too. Instead you tucked yourself back into bed, soothed yourself and slept on your own. You didn't make a fuss, you just let mommy take care of baby while you took care of yourself.
Tonight you acted like a real big brother. Mommy is very proud of you. I love you.
Love, Mom.
Go to top