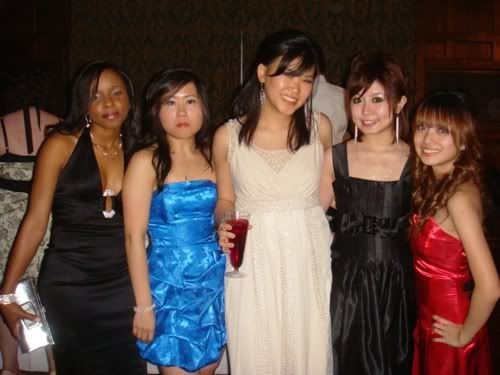 This is Mild.  She's the one in the cream dress and she was one of my best friends back at Mount Holyoke!
(the one in blue is Jeannie hahahaahha I grabbed this photo from an old blog post and I dunno why I put up this photo of her hahahahahaha. Come to think of it I dunno why I'm putting up this photo again ahhaahahah oh right cos it's funny hahahahaahah)
Anyway Mild and Jeannie were part of the reason why MHC was fun for us.  And Mild got married last weekend in Bangkok!
So it was like a mini reunion for us!  The last time I saw Elise was in Singapore before I was married, Mild was also years ago before I got married.  I saw Angela a year after I had Fighter in LA, but I hadn't even seen Jeannie since we graduated nine years ago!
The moment I saw them all though – it was like no time had passed. T3T  It's as though I just saw them for brunch yesterday or something and we were just picking up from there. T____T
Mild was so gorgeous in her wedding dress T_______T Maybe cream is her color she always wears cream hahahaha.  They exchanged vows and I started tearing cos everyone was tearing WTF *sheeple.  Even though I don't even understand Thai hahaha.
They've gone through quite a lot to be with each other la T3T So so happy that we get to witness their happily ever after!
Gratuitous picture of us wtf.  Shit my top senget until wtf.
With Jeannie and Elise.  Coincidentally our outfits matched and complemented each other very well!  Is it we know garden wedding so we automatically gravitate towards blush and florals wtf.
More with my soulmate wtf.  Angela's fiance Frank said that when we're with each other we just ignore the world hahahaha and that we just immerse ourselves in each other wtf.  And apparently when we're together we're assholes cos we don't care about anyone else hahahaha.
The wedding venue was super beautiful actually.  But we also beautiful WTF that's why only take photos of ourselves hahahahaha.  It's called Gardens of Dinsor (I think) and it's a restaurant but they had an enclosure filled with white peacocks ok! (also white pigeons which I mistook for baby peacocks wtf).  And swans in the pond!
(But our outfits go so well right <3)
Forgot about other people and focus on ourselves again wtf.  That's Frank behind taking pictures for elderly relatives.  FHL cos he wore white shirt then all the relatives thought he was a photographer HAHAHAHAHA.
Oh for everyone who's asking, my top and skirt are from a shop called K9 in Terminal 21.
Seriously my Huawei Mate 10 camera is the best shiznit ever.
After the vows Mild had a surprise for us!  She asked all the girls to go find a balloon each and tied to each balloon was a tiny fortune.  Mine was surprisingly very good, like I will have a long and happy life or something.
This was Angela's. HAHAHAAHHAAHHAHA.  Why do they bother printing this fortune HAHAHAHAHA.
Elise all ready to be a mom with Deer (another MHC friend)'s baby.
Eh sorry ah. After years of not being together we had to make up for lost time hahaha.  It's like we grew up but we're still the same.  Elise is in Singapore working with the Pedder Group, Jeannie is a neuroscientist studying dementia and she has a 15 month old baby AND she's starting her pHD omg what am I doing with my life.  Oh and Angela is doing her cold pressed juice business MELU of course.  But actually Elise is still as drily funny as ever, Jeannie still talks non stop, and me and Angela are still assholes hahahaha.
One more photo with the happy couple!
Reunion not over yet!  Mild organized dinner for us the next night too so we could catch up more.  This is a super beautiful Thai restaurant called Ma Maison (Yea the name and the cuisine don't gel wtf).  I love the shelf styling omg this is what my bookcase at home wants to be when it grows up.  (except maybe without the stuffed dead birds)
This Angela totally got the name wrong and kept saying 'My Mansion' to cab drivers no wonder nobody would take us hahahaahah.
Us. <3
Jeannie talked so much she lost her voice HAHAHAHA.  We could only hear maybe 15% of what she was saying.
At Train Night Market where I wisely ate salmon sashimi (which was just hanging out on a banana leaf in Bangkok temperature) and paid dearly for it with full on diarrhea the next day.
… at Chatuckak!  Yea I had to lau sai here FML hahaha. Didn't come hear the last trip and I wish I did now!  Feel like the stuff here is so much nicer and more special than in Platinum.
Like this bag LOL.  Except I don't think it should be model-wanna be guys, it's obviously model-wannabe girls la on Instagram!  I refuse to conform! *does motion OOTD wtf
Frank trying on pants behind a sarong ahhahaah.  We were trying to IG story this and the girl pretended to drop the sarong HAHAHAHA.  She damn funny should have tipped her wtf.
Also visited this beautiful place called The Commons!  It's filled with quirky shops and cafes and is basically an Instagram-worthy place to hang out.
Like this backdrop wall!
I'm so good at doing the Batman face Angie can't keep up wtf.
Hahahaha.
One of the cafes.
The place really very nice!  But Angela's shoe very dirty haahhaahha.
Fatty couldn't join us cos he had another wedding in KL but it was such a good chance for me to catch up with the girls especially Angie.  It's been nearly ten years and it was pretty interesting to see how our interactions and friendship had evolved, and to see myself reflected differently in their eyes.
How to say ah? Like same but different wtf.  I'm still blur and uncoordinated and mildly irritating I suspect but I realized since we graduated that I've also developed more sides to my character.  And one thing Angela said really hit me.
She told me that I said to her once that she always took the easy way out.  I wasn't exactly right, but she did always take the easy way to achieve whatever she wanted.  In her case, she wanted to graduate with honors so she took the most convenient classes in order to maintain the highest GPA possible.
I on the other hand, always wanted to try new, random things.  I took an art class and I was so bad at it Angela wanted to keep my final portrait to look at whenever she was sad WTF.  It pulled down my GPA quite a lot hahaahaha but it didn't matter to me as long as I was learning and experiencing new things.
When we got back from our study abroad program in Japan, I wanted to continue learning Japanese but our college didn't even have such an advanced class anymore.  So I decided to take an hour long bus trip each way to Smith to take Advanced Japanese each week just because.
I think that was when I told her she always took the easy way la cos I was trying to get her to take the advanced class with me hahahaha.
Anyway it hit me that… I'm not like that anymore.  I don't push out of my comfort zone or focus on trying new things.  Maybe I need to get that back.
This blog post took a serious turn so quickly wtf.
Anyway to more reunions! Hopefully Angie's wedding next year!