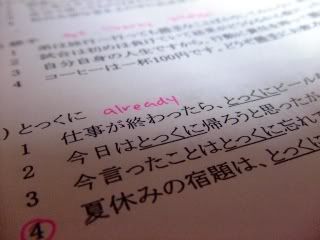 JLPT is over!
No more memorizing grammar!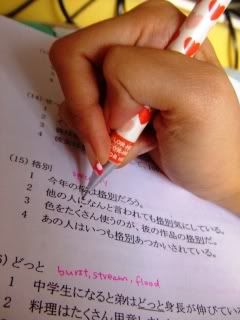 No more doing exercises!
(Picture for illustration purposes see my pencil point not even pointing on anywhere meaningful)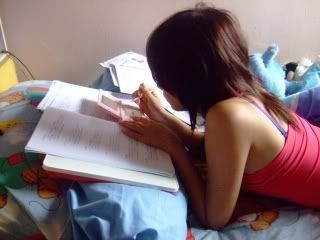 I spent the past week cramming for it.
But I'm pretty sure I failed WTF.
Working and trying to study for something is a lot harder than I thought it would be. 🙁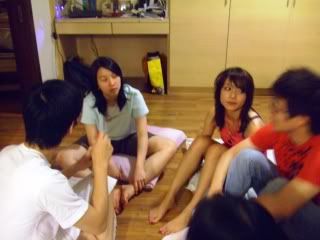 Took a break to meet up with the cousins who are back from Melbourne.
Btw has anyone noticed my hair color!
It is no longer ah lian blond/orange/brown/shit color! wtf.
And it wasn't supposed to be this dark either!  I was sick at home last week and bored of doing nothing so I asked my mom to DIY dye my hair for me.
The box said Light Warm Brown okay!
And after I washed my hair it came out black WTF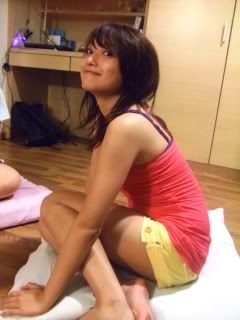 Ok la not black but very very dark brown.  I haven't had hair this dark in ages!  Cos I dyed my hair after Form 5 and never looked back wtf.
I did consider going back to black (once you go black you never go back WTF) but I wasn't sure how I would look with dark hair.  So I never got up the courage to do it.
So how serendipitious wtf because the light warm brown turned out to be dark warm brown and I quite like it for a change!
I look more expensive now WTF.  Ally said I look older too so I dunno if that's a good or bad thing hmmmm.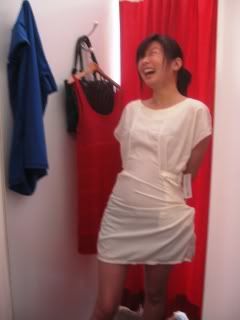 Speaking of Ally, she's gone mad wtf.
(That's her in a strait jacket wtf.)  Ie. very very ugly dress that could double as props for N Sync I Drive Myself Crazy video wtf.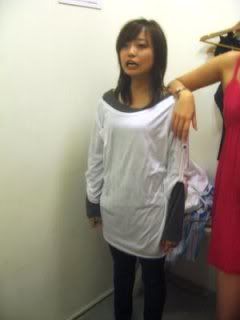 And me going crazy too wtf.
I dunno what's wrong with all the stores in Telawi the clothes are all so damn ugly now!
Ok la maybe not ugly but they're nothing I would wear T________T
I chose that one thinking maybe it would be quite cute if I wore it as a dress but as it turns out I just look like I'm wearing two pajama shirts to keep warm aih.
I found nothing to buy!  Except a pair of stud earrings =(
And what is with this vintage shit going around!  Sorry vintage lovers I know all of you have amazing taste and ability to mix and match and come out with unique outfits but I like nothing I see out there in the vintage sales or flea markets or whatever!
There is nothing cute or pretty or girly about real vintage pieces or vintage-inspired clothes to me:(  I am not a grandmother (grandma floral dresses that reach my shin) I am not a man or a horse jockey (drop crotch pants) I am not Madonna Like a Virgin (fluorescent sunglasses and clothing) and if I wear anything baggy it is going to be extra large on me and I can just move my shoulders a bit and the whole top will fall off me.
And most of the independent boutiques are trying to be very classic and vintage so where does that leave me:(  Can't even go to Topshop and Zara because they don't really fit wtf.  And I boycott F21 in Malaysia it's daylight robbery wtf.
Ya let me just sew my own clothes la wtf.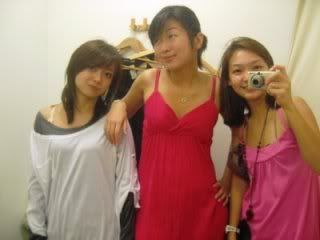 With Jammie!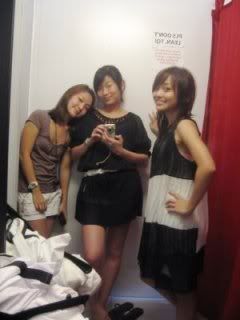 Verdict on dress: too big and weird cutting and quality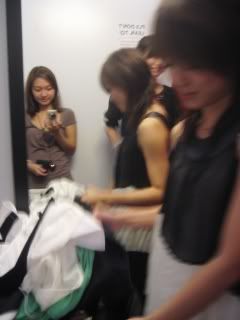 Cool picture except the person I thought was Ally is actually myself wtf.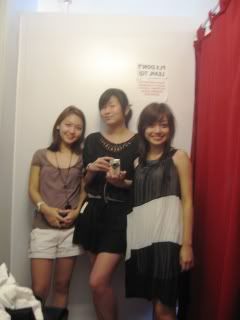 Hello nice normal shot!  (Not like the dress wtf)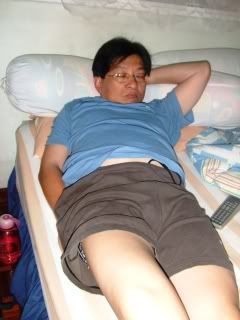 And for those who wonder how Fat Her looks these days, now you know. wtf.