Tell us about the first time you met and your first impression of him/her:
A bit fat and not a very nice shirt WTF.
I was in Bangsar with Hui Wen, Tze and Su Ann and Su Ann asked me if I wanted to meet Kenny and I said okay! Because I was supposed to meet Kenny 4 years ago but I ffked him to go do my hair instead WTF.
Then a whole bunch of people appeared with Kenny and he was one of them.
And it turned out it was his birthday! And we um …kind of gatecrashed it unknowingly awkward turtle wtf.
Wasn't very sure who he was but he talked so much I figured he must be Suet's old boss. I was looking for a job then and he offered to send my resume in to a couple of companies he knew.
What's a weird habit or quirk that s/he has?:
Saying the phrase "you know". Sometimes when I'm irritable I feel like beating the side of his head and shouting "you know your head la you know!" wtf. Oh he also is obsessive-compulsive over washing his hands and drinking water – washes his hands like twenty times a day and drinks like 8 liters of water.
What makes him/her sad?:
the thought that he might fail or not make it. The thought that I will cheat on him wtf.
What makes him/her angry?:
My exes wtf. Having to wait. People cancelling out on him last minute god I can still remember the fury the first time I did that wtf.
What excites him/her?
Possible new ventures. Stories of people who start off poor or downtrodden but who make it big in the end (haih so nerdy). Ice-cream. Steak. Gadget stores. Memememe wtf.
Tell us something funny about him/her:
I'll tell you what's not funny! The amount of gas he has in his system! And he clearly needs to eat more vegetables and fruits! Every time he farts I feel like I'm going to go crazy but to him it's the best entertainment ever to hug me and make me stay there to smell his fart T__________T
What's s/he like at home?:
Quite the same as outside except that he'll change into a ratty old tshirt and shorts and play xbox the whole day (if he could)
What's s/he like at work/school?:
Um from what I know, very efficient and productive. Good at scolding people I think he can be headmaster.
Describe his/her room:
About ten times the size of mine. And ten times as neat! Double bed, dark wooden closet doors, dark wooden desk, swivel chair… and a bookshelf filled with all his rags-to-riches books.
What's his/her best friend like?:
He's undecided between two to be best men for his wedding! One is short, chubby and the loudest person i've ever met. The other one is an ex-army guy and scares the shit out of me and everyone else T_T
Do you know who s/he hates the most?:
Of course i do! But not appropriate to say here.
Have you met his/her exes?:
Yup.
Do his/her parents like you?:
i think they think i'm stupid WTF.
What's the first thing s/he would do or say if s/he fell down and scraped their knee:
Fuck this shit!
what would s/he do in an emergency situation with other people involved?:
he would get all efficient and organize everything and order everyone about. And nobody would dare not to listen to him because he's scary like that.
Which shop would s/he spend the most time at in a shopping mall?:
The xbox shop woe is me. Second is the bookstore. Third is New Zealand natural.
what would s/he have for a typical breakfast?:
Oats! Because my mother told him oats reduce cholesterol and he's been eating it religiously every morning ever since.
Where would s/he want to go for dinner?:
Jarrod & Rawlins. Or San Fransisco Steakhouse.
What kind of movie would s/he choose at the cinema?:
Anything with Vin Diesel -___________- Or comedies also. But never horror and I love horror movies how 🙁
Describe his/her taste in music:
We listen to all the same Chinese songs! And most pop ones too! He likes RnB alot more than me though and his last favourite song is the Cookie Jar one.
If s/he wasn't going out with you, who would s/he be going out with?:
I know! Someone taller wtf.
What item in his/her wardrobe would you like to burn:
OHHH lemme make a list. First, all his striped polo tees. Then I'll move on to all his collared shirts! Actually I'll burn everything not bought in the year AD (Audrey Domini wtf). Seriously baby, seriously. No la I'll leave a few too! Like his Boss Stewie shirt and one more dark blue polo tee cos the cutting is quite nice.
What is s/he good at?:
Typing! He types so fast! Good at lecturing me, very good at talking and expressing himself in general, good at manja-ing, good at waking up in the middle of the night to drag me to him (I need my space ok!), very good at navigating and directions.
What is s/he totally horrible at?:
Drawing la I don't even know how he passed his art class. Or handwriting tests wtf. He also sucks at letting go of grudges  Oh bad at remembering things I say hmph.
What's something about him/her that is annoying/infuriating?:
That he forgets what I say to him sometimes. And his fart trick la after so long already can still laugh so much about farting in my face HA HA so funny.
What's something that you two fundamentally disagree on?:
Grocery shopping. Forgiveness – I always forget how people hurt me and he remembers them for life. I want to adopt 1 kid and call it a day while he wants 4 (FOUR!!!) CHILDREN. From my birth canal! Wtf.
What's something that you two agree whole-heartedly on?:
That Disneyland is the best place on earth. That i'm cute WTF.
Is s/he possessive?:
Yes very.
Why would s/he succeed in life?:
Because he's very determined. And he's very clear on what he wants from life and what he wants to achieve. And once he gets an idea into his head he drives at it incessantly until he gets what he wants.
what is the coolest gift that s/he has ever given you?:
5 letters he wrote and had delivered to my house – he went to Shanghai for a 5 day business trip but before he went he sat down and wrote 5 letters for me.  Then he arranged to have one delivered each day he was gone so I wouldn't miss him too much. 🙂
What does s/he avoid at all costs?:
He's quite easy going! He even follows me to do my hair, lashes and shopping ok. Horror movies. Me plucking his eyebrow hair HAHA well actually once he let me do it but i'm pretty sure he avoids it at all costs now.
What does s/he spend the most money on?:
Food.
Describe his/her typical sunday:
He'll always wake up earlier than me no matter what time it is! Then first thing he'll go turn on his computer. If he could he would go for Klang bak kut the wtf. And then either go BUY GROCERIES DAMMIT or PLAY MORE XBOX god. Basically just bum around cos that's the only day of the week he can.
Why would s/he be dangerous?:
cos his voice is loud enough to bust anyone's ear drums wtf.
Once when we were both in Penang and after some family dinner he picked me up from my grandparents' house and he was wearing a really nice shirt.
What's something about him/her that would surprise all of his/her friends?:
Actually I think what really did surprise his friends (and me wtf) was how clingy and manja he can be! But everyone's used to it now anyways and if he ever indulges in pda in front of the nuffies they just roll their eyes and move to the next room WTF
What do you love most about him/her?:
That he's very smart (even though sometimes I tell him he can be too cocky)
That he's very thoughtful – because I'm not 🙁 and I admire that in him
That he makes me feel very safe and secure.  Like I know that if I'm ever in trouble I just have to wait for him and he'll be there.
His laugh.  When I first met him he didn't laugh as much I dunno why!  But now he does and I have a lot of fun saying something funny and waiting for him to burst into laughter.  He laughs like it's surprised out of him a lot.
The biggest lesson you have learnt from loving your soulmate:
I'm still learning to think of him and of others as much as he thinks of me.
This post was written because today we are 6 months old.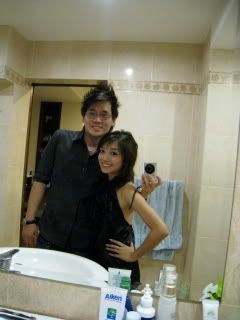 Happy 6 months baby!
click here to see Tim's version