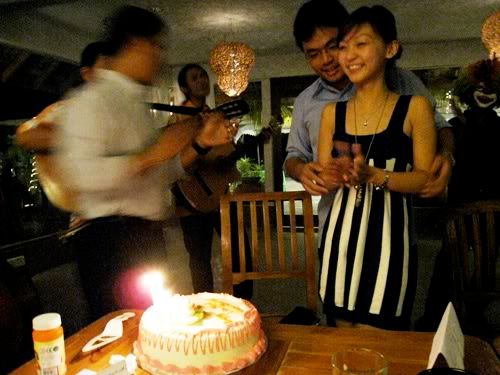 1.  Jammie's birthday dinner at Bora Asmara on Friday.
I love this picture look at Jammie and Latat both so happy!  While the band with their guitars and cellos and hawaiian shirts piped out Happy Birthday hahaha.  And that's the manager doing a Tasmanian devil wtf.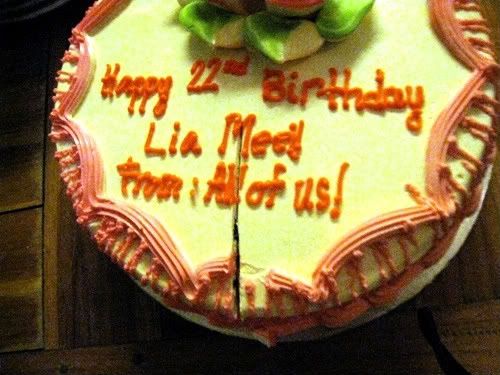 2. Jammie's cake where they misspelled her name from Jia Meei to Lia Meei WTF HOW CAN HAHAHAHAHA I'm sorry it struck me as super funny I couldn't stop laughing!
Who's Lia Meei!  And who's All of Us!  Nobody knows anyone called Lia Meei also! *childish
(Uh oh now you know her age.)
No pictures of her and me because they are all ugly I hate going out after I work working life has ruined my looks I tell you wtf.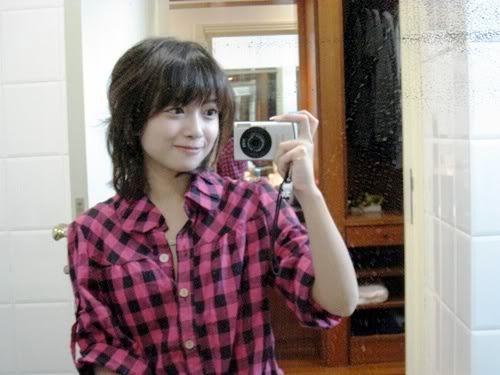 3.  See!  Early morning no problem what!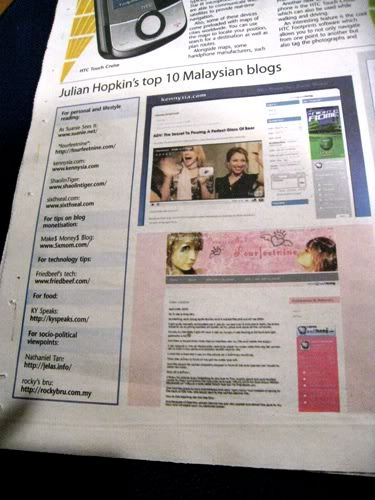 #66: 18 April 2009
I'm in the papers!  Hello Mum!  Hello Dad!
Thanks To Bob Marley who crazily put my blog under his Top 10 Malaysian blogs /shy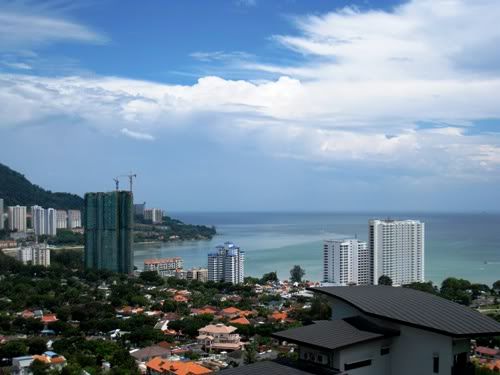 #67: 19 April 2009
View of Penang Island.
I was in Penang for 24 hours last weekend!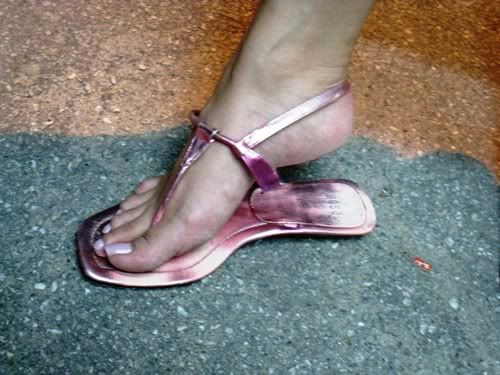 Where, at night in Batu Feringghi Tim stepped on my shoe and broke the strap T______T
I swear this is god telling us we're not meant to be wtf.
Once a day at least!  He'll either step on my foot or elbow me or slap me in the head by accident or something.  Once he elbowed my eye I thought I would go blind T_T
And it hurts okay!  He works out in the gym!  Imagine how it feels when he wallops me!  Me, the person who can't even open her own Coke can ya I am a weak and useless human being.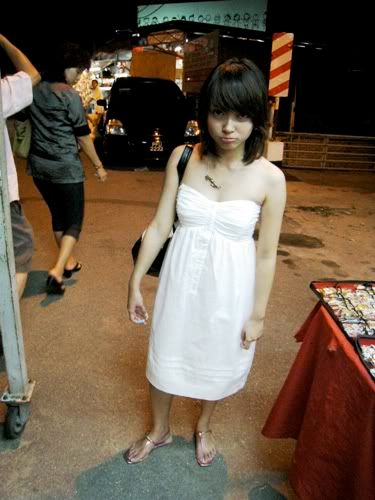 Me being very angry.
Oh and this was right before this girl (later found out her name is Veron) and her boyfriend walked past us and stared at me strangely for 5 seconds.
I thought it was because I stopped in the middle of the road and was glaring at Tim and I said to him "eh why this girl looking at me for so long."
He said "maybe she reads one of our blogs" and I said "Pleeeease la you think we so famous isit" wtf but she did turn out to be one of my blog readers /boo and her husband why did you not say hi!!  I thought she was younger than me FML but it turns out she's already married see what work does to me I tell you.
Anyway this week is going to be killa wtf so my blog posts are all going to be short and crappy.
But short is good!  Look at me! wtf.